Aesthetic Dentistry in Maestria
A smile can be designed – this we do not doubt at Maestria Digital Dental and Face Clinic. Armed to the teeth in arguments we know that aesthetic dentistry can benefit not just cinema and TV celebrities but all who believe that a beautiful and healthy smile a reflects a happy individual.  We have a comprehensive and broad portfolio of aesthetic dentistry treatments, especially designed for patients in need of: tooth shape correction (missing teeth, teeth gaps, uneven front teeth, enamel loss, conical teeth, dental trauma, very small teeth) or color correction (yellow teeth, teeth with tartar, heavily discoloured teeth, too dark teeth, teeth with hypersensitive gums or white spots).
Proper planning is the key to success.
Each procedure starts with patient's face and smile analysis. We take patient portraits in our professional photo studio (casual smile portraits, various face and lips projections shots and filming) and dental arch photos (front shot with closed mouth, perpendicular shot with use of mirrors).
Then we design a smile. We use digital technology for treatment results visualization. This allows us to accurately plan the final shape of teeth. This approach benefits patients as it means that they can see the outcome of treatment before it begins.  To further improve visualization we use wax-ups and mock-ups – this allows patients to "try on" the smile designed with his dentist.
Selected aesthetic dentistry procedures available in our clinic:
Whitening – effective and safe; performed only by professionals. We offer, among others, whitening with the use of the most advanced lamp in the world – Beyond Polus – which removes discoloration even from the very deep layers of enamel.
Veneers – very thin, ceramic flakes glued to front teeth. They allow the doctor can to shape teeth in any way required, perfectly matched to the patient's needs and facial symmetry. Veneers are the best way to reshape teeth and improve their colour. With veneers we can: cover enamel cracks, close teeth gaps, rebuild broken teeth, improve the appearance and position of unhealthy looking teeth and correct their developmental defects.
Dental and implant crowns – used for large cavities resulting from fracture, injury or advanced caries.
Inlay/Onlay fillings – used when a large part of a tooth is destroyed. They significantly reinforce its walls and minimize the risk of further damage. This type of filling gives teeth hardness and strength as close to natural tooth properties as possible, restoring its anatomy (nodules and furrows) and filling it tightly.
Contouring – used with minor imperfections of teeth. The treatment is completely painless and involves the correction of individual elements of dentition. It gives quick results and is often mistaken for bonding or for veneers.
Bonding – a very quick and simple procedure that improves the color and shape of the teeth. It involves applying a very thin layer of special composite onto the affected tooth. It is used with broken or chipped teeth to restore their natural look.
Vector treatment – Vector Paro allows thorough cleansing of gums and teeth. Vector treatment painlessly removes sediment both from the visible parts teeth as well as from under the gums. The device is precise, eliminating the possibility of gum damage. During treatment a hydroxyapatite – the main tooth-building component – is used to close dentinal tubules and reduce hypersensitivity.
Scaling and sandblasting – treatments used to remove discoloration from teeth. Tartar and residue are removed with ultrasound (scaling) or with high pressure stream of cleaning particles (sandblasting). After treatment teeth are polished and lacquered to prevent further calculus, reduce caries and remove unpleasant odours from mouth. Teeth become lighter in colour even by several shades.
Meet our experts in Aesthetic Dentistry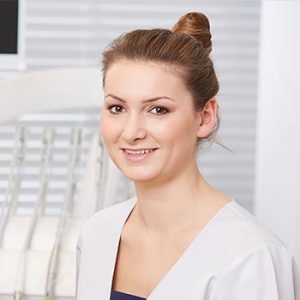 Agnieszka Jankowska, DMD
A graduate from Warsaw Medical University. Postgraduate training at the Infant Jesus Clinical Hospital in Warsaw. Ph.D. student at the Department of Conservative Dentistry of the Warsaw Medical University, where, in addition to clinical research, she conducts theoretical and practical classes with students.
Her research involves the use of stem cells and growth factors in dentistry. Participates in many courses, workshops, training sessions and congresses, constantly expanding her knowledge. The main area of interest is aesthetic prosthetic restoration.
Our strengths
Face and smile analysis.
Professional photo studio.
Digital programs for smile projection.
Visualization and experience of a new smile before clinical treatment begins.
A wide range of solutions for changing the shape and color of teeth and replacing the missing teeth.
Excellent diagnostics in one place.
Special treatment program without pain and stress.
Sign up for consultations
Why sign up for a consultation with Maestria?
Interdisciplinary team – possibility of extensive consultation (aesthetic dentistry, whitening, prosthetics, orthodontics, surgery, implantology).
Modern diagnostic equipment.
Above standard safety and sterility conditions.
Possibility to see the outcome of treatment beforehand.
Many anesthesia methods (CALAJECT computer anesthesia, inhalation sedation, narcosis).
DID YOU KNOW?
Properly performed aesthetic dentistry treatment should include successive stages of action that guarantee the best possible outcome both in terms of aesthetics and function: research and diagnostics, consultation, treatment planning, patient's treatment acceptance, the treatment itself, and summary of results.