You can count on above average and sometimes even ground-breaking effects of surgeries performed at our clinic.
Oral and maxillofacial surgery at Maestria
Doctors from Maestria have developed innovative methods for inducing regeneration of both soft and hard tissue within the body. In oral and maxillofacial surgeries as well as implantology treatments, they often propose the use of autogenic bio-materials – stem cells and growth factors – that can be obtained from patient's blood, bone marrow as well as extracted teeth.
Such methods give astounding effects and are applicable for the following procedures:
extraction (removal) of teeth that cannot be saved,
extraction of impacted teeth,
extraction of wisdom teeth (third molars),
implantations,
root apex resection (apicoetomy),
cyst removal,
sinus lifting,
gingival recession filling,
gum transplantation,
help in sport traumas and post-accident injuries.
This is only a small fragment of operations performed by dental surgeons at Maestria Digital Dental and Face Clinic. Notably, surgeries often comprise one of the phases of complex treatment which is, for example, combined with missing teeth replacement, teeth straightening or root canal therapies.
Know the oral and maxillofacial surgery expert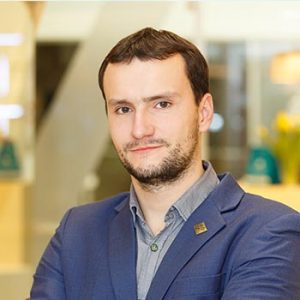 Maciej Michalak, DMD, PhD
Graduate of I Faculty of Medicine with Dentistry Division at the Medical University in Lublin recognized with Rector's Award as well as post-graduation studies in Management of Healthcare Entities at the Warsaw School of Economics. Employee of the Military Institute of Aviation Medicine. In 2012, he launched his specialization in oral and maxillofacial surgery at the Military Institute of Medicine in Warsaw. He is the first and only Pole at the World Academy of Growth Factors & Stem Cells in Dentistry. He was the coordinator of practical courses at the FDI 2016 congress as well as member of Peer Court at the Polish Society for Masticatory Organ Dysfunction. Co-founder and President at BE ACTIVE DENTIST. He has been President of the Polish Association of Dental Students ZG PTSS between 2010 and 2013 and currently remains its Honorary Member.
Our advantages
Less invasive procedures thanks to introduction of laser and ultrasound, More…
Special painless and stress-free treatment program (use of laughing gas and computer-controlled anesthesia), More…
Excellent diagnostics (radiography and tomography, microscope in every dentist's office), More…
Better and faster post-procedural regeneration (use of autogenic bio-materials), More…
Possibility to undergo treatment while "anesthetized".
Sign up for consultations
Why is it worth enlisting for consultations at Maestria?
Experienced surgeons taking up complicated procedures.
Modern surgery with introduction of laser, ultrasounds.
Full diagnostics conducted in one place.
System of advanced anesthetics (computer-controlled anesthesia CALAJECT, inhalation sedation, narcosis).
Better results of post-procedural regeneration (use of stem cells and growth factors of the patient).
DID YOU KNOW THAT?
There are situations where a surgeon is able to save a knocked-out tooth. Young patients who visit the surgery immediately after suffering from an injury have the biggest chances for such procedures. Until being examined by the doctor, it is best to keep the tooth in mouth or a container filled with milk.