Who has ever experienced a toothache, knows it is one of the most severe types of pain that our own organisms can cause. Only when it already hurts do many – although reluctant to admit it – realise how long it has been since their last dentist appointment.
Delusions aside – home methods will not solve the problem. Bacteria in the tooth are more powerful and they irreversibly damage the enamel. Any delay in undergoing caries treatment usually leads to an even more severe toothache. Such a negligence may entail the need for root canal therapy, which is always longer (i.e. more expensive), more difficult and it results in the tooth being dead.
Treating caries at Maestria
At Maestria Digital Dental and Face Clinic we eradicate caries efficiently. We provide our patients with painless and comfortable computer assisted anaesthesia. In order to deal with a cavity effectively, we often work under a microscope and using rubber dam. We use only visually aesthetic dental fillings (composite materials perfectly imitating the natural shape, colour and function of the given tooth) so that the patient can feel that not only is their smile healthy, but it is aesthetically flawless. The result of our experts' work is a tooth reconstructed so well that spotting any difference between it and a healthy one is often impossible.
First visit
Doctor's first interview with a new patient aims at learning about the expectations they have regarding the treatment. The next step is preliminary examination and inspection of the oral cavity in one of our cozy practices. With the magnification provided by an intraoral camera or dental microscope, your doctor will find even the tiniest anomalies, show them to the patient on the monitor and explain everything.
Then, the patient may be invited to an X-Ray examination, since the ultimate success vastly depends on precise diagnostics. Dental photography, pantomography, cephalometry and tomography are all performed at Maestria by our highly-qualified staff.
If no need for immediate treatment emerges, the first visit is concluded with discussing all the tests, proposing ways of treatment and informing the patient about the treatment costs and possible alternatives.
Should the scope of your treatment require involvement of doctors of various specialties, another consultation might prove necessary. Then, our experts will discuss and agree upon a comprehensive treatment plan. It is always adjusted to your expectations and financial possibilities.
Finally, we set the next appointment and estimate its approximate cost. Before leaving, the patient receives a chart, in which they can find a complete description of the inspection result and recommendations to the sequence of treatment.
Remember!
Only regular visits to a dentist every 6 months and undergoing oral cavity control and hygienisation (scaling and sandblast cleaning) guarantee that you avoid any dental problems!
Do not ignore!
Pain in a tooth, gum, palate, regions of temporomandibular joints;
bad breath;
discolourations, plaque or tartar;
bleeding gums;
cracked or chipped teeth;
hypersensivity to cold and hot meals or beverages;
pain while biting;
wear of teeth;
grinding or clenching of teeth.
The symptoms only intensify and get worse with time. Ignoring little symptoms may entail a need for more complicated treatment in the future. Often such a treatment takes much more time and is more expensive. Any longer delay may cause a need for devitalization or even lead to tooth loss!
Meet our experts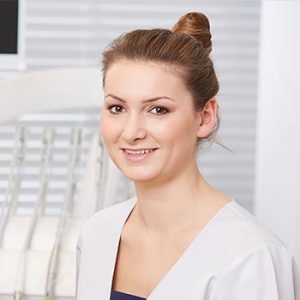 Agnieszka Jankowska, DMD
Graduate of the Medical University of Warsaw. She performed her post-graduate practice at the Infant Jesus Clinical Hospital in Warsaw. A PhD student at the Unit of Conservative Dentistry at the Medical University of Warsaw where, besides conducting scientific research, she also runs theoretical and practical courses for students of medical and dentistry studies.
Her scientific research is related with the use of stem cells and growth factors in dentistry. She takes part in numerous courses, workshops, trainings and congresses where she is able to extend her knowledge. Her main area of interest comprises prosthetic reconstruction.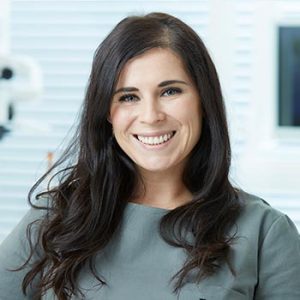 Natalia Kowalczyk-Zuchora, DMD
Fight against gum diseases in patients is her day-to-day work. Nonetheless, she does not limit herself solely to periodontology – she also performs surgical treatment when needed. At Maestria, she is beloved by the youngest patients.
Feedback from our patients
Our strengths
Excellent diagnostics in one place (tomography, panoramic radiograph, X-ray, cephalometrics, diagnostic cameras and microscopes).
Written certificate with detailed evaluation of the condition of the mouth cavity and teeth.
Precise, quick and pain-free treatments.
Highly aesthetical fillings.
Special treatment program without pain and stress (computer anesthesia, laughing gas).
Sign up for consultations
Why is it worth enlisting for consultations at Maestria?
Experienced surgeons taking up complicated procedures.
Modern surgery with introduction of laser, ultrasounds.
Full diagnostics conducted in one place.
System of advanced anesthetics (computer-controlled anesthesia CALAJECT, inhalation sedation, narcosis).
Interdisciplinary team – possibility of vast consultations (prosthetics, orthodontics, surgery, implantology).
Better results of post-procedural regeneration (use of stem cells and growth factors of the patient).
DID YOU KNOW?
Thanks to abrasion we can treat caries without a drill. How does it work? Under proper pressure, the mixture of water and a cleaning agent removes caries from the teeth. The treatment is painless, perfect for people who are allergic to anesthetics. When dealing with advanced tooth decay, the abrasive method can be a great way to spare canal treatment. It's available in our clinic.