Thanks to an innovative method of inserting dental implants in our clinic, we guarantee that you will receive fast, sure and precise missing tooth replacement!
Implantation procedure performed at Maestria
Doctors at Maestria have developed innovative methods of implant insertion as well as tissue and bone regeneration after the implantation procedure. With focus on improving the process of integrating the tooth implant into the bone, we use, among others, Swiss implants covered with bio-material – stem cells or growth factors – obtained from the patient's blood. This method allows us to achieve ground-breaking results with guaranteed faster post-procedural wound-healing.
Implants are no longer only whims of rich stars that feature on front page covers of colored magazines but also the best way to replace missing teeth that – as numerous research indicate – ought to be absolutely replaced. Missing teeth not only limit the comfort of our life (we smile less and suffer from impaired ability to chew which results in poorer nutrition), but also affects the structure of the whole oral cavity.
Loss of even one tooth from the dental arch might result in migration of adjacent teeth (the so-called Godon symptom) as well as accelerate the loss of crestal bone, limit the work of temporomandibular joints, burden other teeth and might even result in tongue hyperplasia.
At Maestria Digital Dental and Face Clinic, we approach the dental implant treatment with an innovative manner. Firstly, we conduct professional analysis of tomographic examination and, afterwards, we also use the abilities of our photographic studio and special software. Thanks to "digital dental", we are able to precisely determine the symmetry of the face, mouth alignment, mouth's corner lines as well as numerous other parameters that will help us design the ideal smile.
What is more, each patient can "try on" the model of future teeth before we proceed to launch the treatment.
Know the implantology expert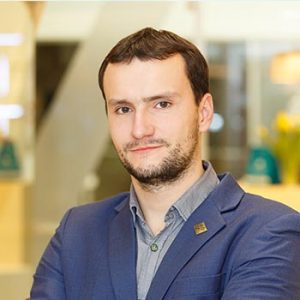 Maciej Michalak, DMD, PhD
Graduate of I Faculty of Medicine with Dentistry Division at the Medical University in Lublin recognized with Rector's Award as well as post-graduation studies in Management of Healthcare Entities at the Warsaw School of Economics. Employee of the Military Institute of Aviation Medicine. In 2012, he launched his specialization in oral and maxillofacial surgery at the Military Institute of Medicine in Warsaw. He is the first and only Pole at the World Academy of Growth Factors & Stem Cells in Dentistry. He was the coordinator of practical courses at the FDI 2016 congress as well as member of Peer Court at the Polish Society for Masticatory Organ Dysfunction. Co-founder and President at BE ACTIVE DENTIST. He has been President of the Polish Association of Dental Students ZG PTSS between 2010 and 2013 and currently remains its Honorary Member.
Our advantages
The fastest integration of the implant into the bone thanks to Swiss bio-engineering!
Innovative method of inserting the implant with the use of the patient's stem cells and growth factors.
Special painless and stress-free treatment program (use of laughing gas and computer-controlled anesthesia), More…
Excellent diagnostics (radiography and tomography, microscope in every dentist's office), More…
Better and faster post-procedural regeneration (use of autogenic bio-materials), More…
Possibility to undergo treatment while "anesthetized". 10-year warranty on the implant's insertion.
Sign up for consultations
DID YOU KNOW THAT?
Implants behave like natural teeth and reconstitute all functions of the missing teeth. Furthermore, implants eliminate discomfort occurring in prostheses and recover gaps between teeth without the necessity to polish adjacent teeth, which is obligatory in case of other solutions, i.e. tooth bridges.
Why is it worth enlisting for consultations at Maestria?
Experienced surgeons taking up complicated procedures.
Above average and sometimes even ground-breaking results of surgeries performed in our clinic.
Full diagnostics conducted in one place.
System of advanced anesthetics (computer-controlled anesthesia CALAJECT, inhalation sedation, narcosis).
Better results of post-procedural regeneration (use of stem cells and growth factors of the patient).