In treatment of children, the doctor's approach is of crucial importance – the way he is able to encourage the child to co-operate and start the treatment. Many children and their parents value the clinic based on the friendliness of the doctor.
Treatment of children at Maestria
For children visiting our facility, each visit will turn into a cheerful adventure!
At Maestria, we introduce the little ones to the magical world of dentistry. At first, we will show your child around the clinic while our friendly team will gladly answer all questions asked.
Your child will love our Maestria
At our clinic, the whole personnel is focused on the needs of little patients. Thanks to available toys and coloring books as well as cartoons displayed on monitors during the treatment and surprises waiting for the brave little patients after the visit is completed, children are willing to come back to us for further appointments.
A smile from ear to ear
In treatment of children, the doctor's approach is of crucial importance – the way he is able to encourage the child to co-operate and start the treatment affects the future co-operation in long-term.
During the first few visits, we aim at befriending the young patients. We perform only pleasant procedures such as: varnishing, polishing or sealing. All this is done in order for your children to leave Maestria with a smile on their faces and return with one as well.
Having delicious anesthetic jellies, computer-controlled anesthetics and laughing gas at our disposal, we are able to start even the most difficult procedures at any convenient moment.
How to prepare the child for the visit?
Dear Parent! You can trust us!
Speak! Tell your child about the dentist and his work. Remember that technology has developed significantly in recent years and many procedures, which were rather unpleasant in the past, have faded away.
Do not speak about pain! Do not use phrases such as "it will not hurt at all".
From a psychological point of view, the child might read this as a sign that something might in fact be amiss.
The first visits at Maestria ought to be completely non-committal for the child.
Allow your child to observe. Bring the child along when you yourself are the patient.
However, please do remember that your appointment should not be too long and do not schedule any complicated procedures for that time.
Select an appropriate part of the day for the adaptation visit. The best time include morning hours and early mid-day when the child is rested. Our specialists will skillfully adapt your little one with the office.
Prize! A small gift during the first and all subsequent visits perfectly establishes friendly relationships. Remember that once trust is established, the child shall remain our loyal patient for a long time.
And the most important thing – your child shall have healthy teeth!
Know the expert of pediatric dentistry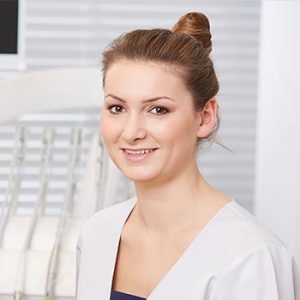 Agnieszka Jankowska, DMD
Graduate of the Medical University of Warsaw. She performed her post-graduate practice at the Infant Jesus Clinical Hospital in Warsaw. A PhD student at the Unit of Conservative Dentistry at the Medical University of Warsaw where, besides conducting scientific research, she also runs theoretical and practical courses for students of medical and dentistry studies.
Her scientific research is related with the use of stem cells and growth factors in dentistry. She takes part in numerous courses, workshops, trainings and congresses where she is able to extend her knowledge. Her main area of interest comprises prosthetic reconstruction.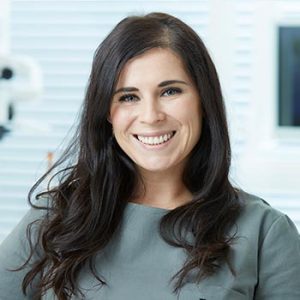 Natalia Kowalczyk-Zuchora, DMD
Fight against gum diseases in patients is her day-to-day work. Nonetheless, she does not limit herself solely to periodontology – she also performs surgical treatment when needed. At Maestria, she is beloved by the youngest patients
Feedback from our patients
Our advantages
Clinic's personnel focused on the needs of little patients.
Special painless and stress-free treatment program (use of laughing gas and computer-controlled anesthesia).
Written certificate with detailed evaluation of the condition of the mouth cavity and teeth.
Precise, fast and painless methods for removing tooth decay.
A unique package of dentistry services "Familia" for permanent patients.
Sign up for consultations
Why is it worth enlisting for consultations at Maestria?
Painless and stress-free visits.
Friendly personnel.
Adaptation visits.
Numerous attractions and surprises.
Colorful fillings.
DID YOU KNOW THAT?
It is worth scheduling a visit at the dentist's office already for your 6-month-old. The visit will allow the dentist to evaluate the condition of the child's mouth cavity as well as discuss the parent's hygiene habits. The doctor will explain which toothbrushes and which toothpaste ought to be used. Remember – deciduous teeth, despite being temporary, should be treated as well in order to prevent decay in permanent teeth.