A beautiful, snow-white smile is our biggest ornament. In order to be able to enjoy healthy teeth, you ought to undergo prevention procedures minimum every 6 months.
Prevention is better than cure – bearing this motto in mind, we kindly invite you to visit Maestria where we shall take care for your teeth to maintain their glamour for many years.
Even people who clean their teeth with utmost care at home conditions are not able to fully avoid the plaques that develop in their mouths and afterwards accumulate on teeth enamel and at the subgingival roots of the teeth. Such plaques are a combination of bacteria and mineral deposits resulting from interaction between saliva and food. They are the root of all evil – tooth decay and gum diseases
Often hygienic procedures combined with use of products which reinforce the strength of teeth coating guarantee a healthy smile.

Prevention at Maestria
Hygienic procedures at Maestria are performed by doctors and hygienists.
The most popular prevention procedures conducted at our clinic include: dental scaling (removal of calculus), teeth sandblasting (removal of plaques and pigmentation), fluoridation, sealing (replacing natural folds at the surface of the teeth). All treatments are fully painless and guarantee a wide range of advantages such as:
Natural whitening of teeth and removal of discoloration (teeth whiter even by few shades).
Clearing the dental plaque from bacteria causing tooth decay.
Ridding of the foul odor from the mouth.
Maintaining healthy teeth throughout life.
Increasing resistance of teeth and gums to bacteria and acids.
The hygienic visit at Maestria Digital Dental and Face Clinic takes approximately one hour. During the visit, the doctor or hygienist will thoroughly perform the procedures as well as introduce instructions on the proper techniques of brushing your teeth, methods for cleaning the interdental spaces as well as removing plaque from the tongue.
During one visit, the patient gets rid of calculus and dental plaque while the gums become healthier and teeth appear whiter even by several shades.
Vector therapy
Vector Paro is the most effective equipment for hygienisation treatment of mouth cavity in the world.
Running without any vibrations, it gently removes bacteria and deposits and leaves only clean and smooth surface of teeth. The system is very precise but also gentle for tissue as no other. It provides whitening effects by at least half a shade.
Vector Fluid fixes the surface of the teeth and lifts hypersensitivity due to impregnation and sedimentation of calcium compounds in open dental tubules, which contributes to accelerated re-mineralization.
At Maestria, we use it in order to prevent as well as treat advanced periodontitis.
Scaling
A popular procedure based on the removal of bacteria as well as calculus from the surface of the teeth with the use of a specialist ultrasound equipment.
Teeth sandblasting
Removal of plaque and discoloration by a stream of water, air and cleaning powder.
Varnishing
Application of a varnish with fluor on the teeth with a soft brush. Recommended to both children and adults. Fluor enhances and hardens teeth enamel as well as prevents teeth from tooth decay and makes them less vulnerable to thermal stimulants.
Sealing
Using a special light-hardening varnish to seal natural dental folds and cavities not affected by bacteria. Those places are most vulnerable to deposition of microorganisms. Therefore, this allows us to prevent tooth decay.
Know the expert from Maestria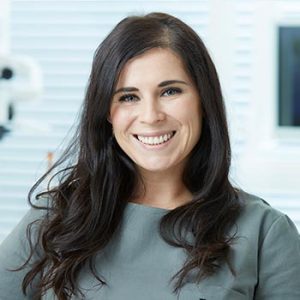 Natalia Kowalczyk-Zuchora, DMD
Fight against gum diseases in patients is her day-to-day work. Nonetheless, she does not limit herself solely to periodontology – she also performs surgical treatment when needed. At Maestria, she is beloved by the youngest patients.
Our advantages
High class procedural techniques.
Innovative methods for periodontitis treatment.
Painless bio-stimulating procedures with the use of laser.
Modern, painless and bloodless VECTOR PARO procedure as an alternative for scaling.
Application of hydroxyapatite on the surface and the root of teeth.
Excellent on-site diagnostics – panoramic radiography, tomography, cephalometry. More…
Faster post-procedural regeneration due to bio-materials, More…
Sign up for consultations
Why is it worth enlisting for consultations at Maestria?
Experienced surgeons taking up complicated procedures.
Modern equipment and procedural methods, among others, with the use of lasers, ultrasounds.
Full diagnostics conducted in one place.
System of advanced anesthetics (computer-controlled anesthesia CALAJECT, inhalation sedation, narcosis).
Interdisciplinary team – possibility of vast consultations (aesthetic dentistry, whitening, prosthetics, orthodontics, surgery, implantology).
The best results of post-procedural regeneration (use of stem cells and growth factors of the patient).
DID YOU KNOW THAT?
… there is an equipment which painlessly removes whole plaque from the visible part of the tooth as well as from under the gums without the risk of causing damages. Furthermore, it also whitens the teeth by 0.5 shade? It's called VECTOR PARO and, of course, we do have it at our clinic.